Best Diwali Gifts and Gifting Ideas In 2023: Spreading Joy and Love
Diwali, the Festival of Lights, is not just a celebration of the victory of light over darkness but also a time when we come together with our loved ones to spread joy, love, and happiness. One of the most cherished traditions of Diwali is the exchange of gifts, symbolizing the warmth and affection we hold for our family and friends. As we step into 2023, the art of gifting has evolved, and finding the perfect Diwali gift has become both an art and a science.
In this blog, we will explore the best Diwali gifts and best Diwali gift ideas for 2023, ensuring that your festive season is filled with meaningful gestures and cherished moments. Whether you're searching for traditional Diwali gifts that pay homage to age-old customs or seeking modern, thoughtful presents, we have you covered. Let's dive into the world of Diwali gifts and uncover the perfect ways to spread joy and love this Diwali season.
Chocovic: Diwali Gift Hamper Ideas
When it comes to the best Diwali gift box and Diwali gift hamper ideas, Chocovic takes the spotlight with their exquisite range of Diwali gift hampers. From luxurious assortments of handcrafted chocolates to intricately designed Diwali-themed packaging, Chocovic's offerings are a testament to the art of gifting. Each Diwali hamper is a harmonious blend of flavors and aesthetics, making it a delightful present for your loved ones. These hampers not only satisfy the sweet tooth but also elevate the gifting experience, making Chocovic a top choice for those looking to add a touch of elegance and indulgence to their Diwali celebrations. You can explore their stunning collection on their website to discover the perfect Diwali gift that encapsulates the spirit of the festival.
The Lilac Carry Bag is more than just a gift; it's a celebration of the Diwali spirit. This Best Diwali Gift Box is a perfect embodiment of traditional Diwali flavors and modern aesthetics. Inside, you'll find a delectable assortment that includes Chivda, Beetroot Square, Matari, and Chana Burfi. The tasteful combination of savory and sweet treats in this hamper is sure to delight every palate. What sets the Lilac Carry Bag apart is not only its delicious contents but also its elegant packaging, making it a thoughtful and visually appealing gift choice for your loved ones during the festive season. It's a heartfelt way to convey your warm wishes and share the joy of Diwali.
The Mustard Thank You Box is a delightful expression of gratitude and appreciation, making it one of the standout Diwali Gifts for your loved ones. Inside this thoughtfully curated hamper, you'll discover a medley of flavors that are sure to enchant the taste buds. From the Crispy Sabudana Crackers to the delectable Mishtisukh sweetmeat, and the indulgent Flat Toffee to the Savory Wheat Flaky Mix, this gift box offers a symphony of tastes that cater to every craving. It's a perfect way to convey your heartfelt thanks and make your loved ones feel cherished during the Diwali season, showcasing the spirit of giving and sharing that makes this festival so special.
Also Read:-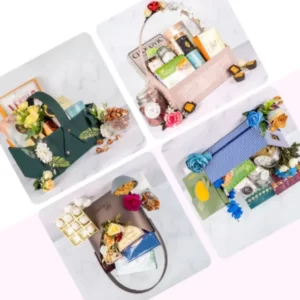 Diwali Gift Ideas for Friends & Family: Thoughtful and Affordable Hampers Diwali, also known as [...]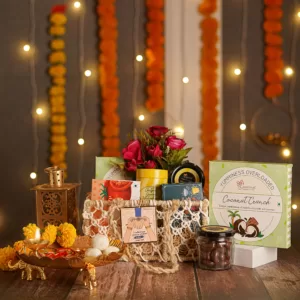 Top 10 Diwali Gift Hampers for Suit Every Budget and Taste Diwali, the luminous festival [...]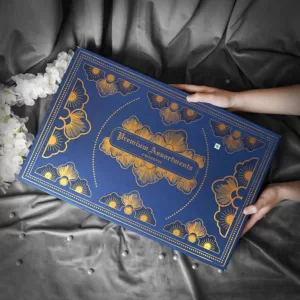 Choosing the Perfect Corporate Diwali Gifts: A Guide for Employers The festive season is almost [...]
For those seeking Diwali gift hamper ideas that exude sophistication and taste, the Premium Assortments Hamper stands as a top choice. This exquisite gift selection is designed to captivate the senses with a diverse array of flavors and textures. From the decadent Biscoff Pudding to the wholesome Roasted Lentils, and the rich Caramel Toffee to the tangy Guava Papad, this hamper offers a journey through culinary delights. Additionally, the inclusion of Moong Daal and Dry Paan adds a touch of tradition, making it a well-rounded and impressive Diwali gift that beautifully encapsulates the festive spirit of sharing and indulgence.
The Pista Green Carry Bag is a testament to the art of gifting and stands out as one of the best Diwali gift ideas. This meticulously crafted hamper brings together a delightful mix of flavors and textures, making it a perfect choice for the festive season. Inside, you'll find a tempting assortment that includes Kodo Puffs for a crispy indulgence, Flat Toffee for a sweet treat, Besan Pakora for a savory delight, Oats Khakhra Bits for a healthy crunch, and Halka Phulkaa Makhana for a touch of elegance. The hamper's vibrant Pista Green packaging adds an extra layer of charm, making it a memorable and heartwarming gift to share during Diwali, a time of togetherness and celebration.
Conclusion
In conclusion, as we immerse ourselves in the joyful festivities of Diwali, the act of gifting takes center stage, and finding the best Diwali gifts ideas becomes a meaningful endeavor. Whether you're searching for traditional tokens of love or modern expressions of appreciation, the art of gifting has evolved to offer a wide array of options. From the elegance of the Pista Green Carry Bag to the sophistication of Premium Assortments, or the timeless charm of the Mustard Thank You Box, and the indulgence of the Lilac Carry Bag, there is a Diwali gift to suit every taste and sentiment.
As we exchange these Best Diwali Gift Boxes, let us remember that Diwali is not just about material offerings but also about the warmth and love we share with our near and dear ones. It's a time to spread light, happiness, and gratitude. So, whether you choose traditional sweets or gourmet treats, the essence of Diwali gifts lies in the joy they bring to both the giver and the receiver.
May this Diwali be a time of love, togetherness, and cherished moments, where the Best Diwali Gift Box you select reflects the spirit of the festival – one that spreads joy, love, and light in the lives of those you hold dear. Happy Diwali!